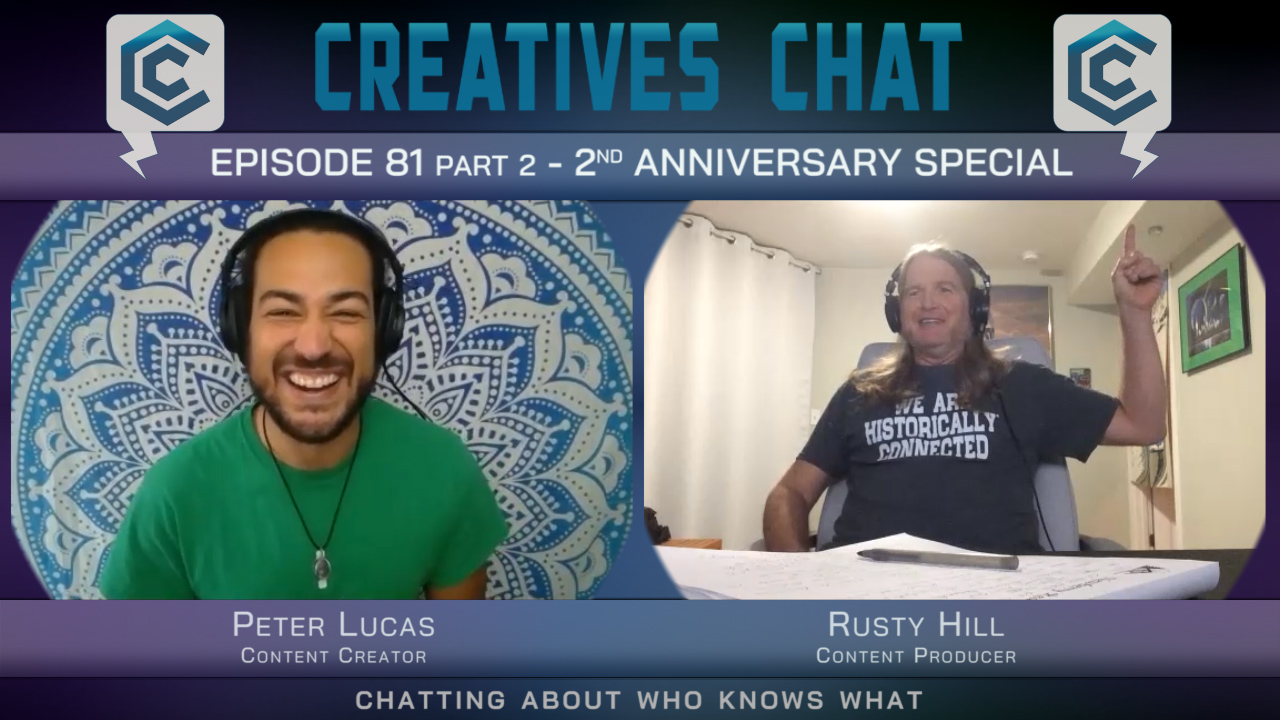 SPECIAL EDITION
Creatives Chat Episode 81 Pt 1 - 2nd Anniversary Special
Creatives Chat has surpassed the 2 year mark with 80 Creatives Chats and 50 plus After Show Convos. Join us as we share some memorable highlights and fun moments behind the scenes.
Peter and Rusty chat about the lessons we have taken away from our guests and how they add to our multi-purpose utility belt(s)... metaphorically speaking.
We show clips from:
Episode 44 - Wendy R Wolf, a Mystic Mentor and Transformation Facilitator, about Self Mastery.
Episode 45 - Janine Morigeau, a career Tarot Reader and Spiritual Coach who shares some personal insights with us.
Episode 46 - Gary Haskins, a yoga teacher and musician who pivoted into webcasting and created his own YouTube talk show: The Conscious Perspective.
Episode 47 - Gerald Smiley, a former pro baseball player turned entrepreneur who is founded the fintech startup: Chip-In.
Episode 48 - Chris James, a self-taught Holistic Wellness Coach who helps others heal by using our body's natural resources.
Episode 49 - Ariel-Nachman Kent, a multidisciplinary Artist who transitioned into offering spiritual guidance and coaching.
Episode 50 - Virginia Edmond-Kent, a yoga teacher and Reiki healer at a spiritual retreat in Guatemala about seeing reoccurring numbers.
Episode 51 - Eileen Grimes, a Forensic Astrologer and Author of the 2004 book: Titanic Astrology: The Grand Design of a Famous Shipwreck.
Episode 52 - Dawn Spiegelberg, a Heart Coherence Coach and the host of the Live By Heart Today webcast.
Episode 53 - Christine Upchurch, a Healer and Author of the book: All You Need Is Love: The importance of transcending spiritual clichés and living their deeper wisdom.
Episode 54 - Lauren Rae Witt, a Chef who shares how she fell love with cooking and experiences in the food industry.
Episode 55 - Jude Love of Zero Point Tai Chi, shares his holistic outlook and why he changed his name legally.
Episode 56 - Dr. Gerald Pollack, a Research Scientist, Professor and Author of: Cells, Gels and the Engines of Life: A New Unifying Approach to Cell Function.
Creatives Chat Episode 81 Pt 2 - 2nd Anniversary Special
Join us as we share some memorable highlights and fun moments behind the scenes of:
Episode 57 - Order of the Hidden with members: Elder Victor, Oracle Anie and Numerologist Mofo; a public charity focused on spiritual growth.
Episode 59 - In Aisle Eight with band members: Ariel De Anda, Hayden Lila, Tristen Stone, Jason Abbott and Evan George.
Episode 60 - David Hulse, Certified Vibrational Sound Master Teacher, who combines metaphysics, science, sound and spirituality.
Episode 61 - Alexei Soma, a Psychotherapist and Licensed Social Worker who is building a spiritual academy which combines the teachings of the Buddha with the practice of sacred plants.
Episode 62 - BRY444N, an independent artist and CEO of Emotion Entertainment who is a Conscious Creator that intermingles spoken word with story telling.
Episode 63 - KingDow, a performer, dancer, and musician that brings together universal wisdom and creative expression.
Episode 64 - Alexis Nee, a Self Love and Energy Coach who helps others live a life aligned with love and joy.
Episode 66 - Aaron & Moe, the owners of Cosmic Earth Medicine where they provide healing gems, minerals and crystals.
Episode 68 - Ty Keenen, an athlete who pivoted into being a creative artist and consciously aware musician.
Episode 70 - Dorian Jones, a motivational speaker that focuses on improving our Mindset
Episode 71 - Evie B, an artist, musician and athlete with the motivation to do what needs to be done.
Episode 72 - Teague M Parker, an Actor, Playwright, Producer, and Founder of Come Up Productions.
Episode 74 - Fire Guy Ryan, a comic book aficionado and co-host of the Bags & Boards podcast.
Episode 75 - Malik LovesYall, a Father, Artist and Educator who uses his musical talents to uplift our community.
Episode 76 - Sarah Hopkins, a certified Reiki Healer who is being a Healer on a global scale.
Episode 77 - Alison Adair, a world traveling chef and educator, who has a converted school bus.
Episode 78 - Spencer Tribwell, a Creative Evolutionary that is facilitating the journey of awakening Divinity within us.
Episode 79 - Joselito Castillo, a Spiritual Healer and Life Coach who offers energy cleanses, banishing ceremonies and spirit alignment.
Episode 80 - Brodie Peterson, aka The Brodcast, a Seattle-based artist and producer that adds depth to his music with thought-provoking lyrical meditations.